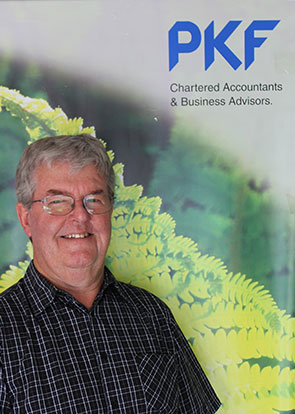 Jack Poutsma
Director
Tel: +64 21 522 575
Email: jack.poutsma@pkfboi.nz
Professional Experience
Jack Poutsma returned to the Bay of Islands in 1978 after working in Auckland, Wellington and Hamilton, in Chartered Accounting, manufacturing and construction.
Initially Jack practised in partnership with his father Dirk in Kaikohe, Kerikeri and later Paihia, before initiating a merger of two practices into what was to become PKF Poutsma Lemon Limited which is now know as PKF Bay of Islands.
While working in Paihia Jack developed the practice to serve the needs of tourism businesses, accommodation providers, aquaculture, professional practices and property management. The firm has managed properties as far south as Queenstown and Gore.
Jack devotes much of his time to assisting SME's to improve their business performance through establishing and monitoring Key Performance Indicators, and through benchmarking.
In 1997, after a term as a director, Jack was appointed chairman of Top Energy Limited. This group of companies owns and maintains the electricity network in the Far North of New Zealand, it contracts its services nationally and internationally, has developed its own geothermal power generation plant at Ngawha and has a Call Centre business in the Far North and in Auckland. He retired from this position in 2006.
Prior to the firm joining PKF, Jack served on the board of Horwath International (NZ) Limited and was the groups "Partner of the Year" in 2000.
Professional Qualifications and memberships include:
Institute of Chartered Accountants of New Zealand.
Institute of Chartered Secretaries and Administrators.
Institute of Directors.
New Zealand Trustees Association.
A Rotarian for many years, Jack has the distinction of having been Club President of two different clubs. He has held office at district level and has been awarded a Paul Harris Fellowship.
Return to directory